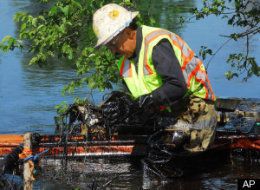 Thank you Huffington Post for the photo
Oh no, not again! Another worst for our country. They are calling it the largest oil spill in Midwest history. You know, I really like making history, but this is getting ridiculous!
As you, my oh so dedicated readers know, I write for another blog on Tuesdays,
Green Spot-On
. Well, the home of
Green Spot-On
sits pretty darn close to where this disaster is. So just hours after I posted last night, an
open letter to readers
was posted about this horrific event by my friend, follower (here at RR, thanks Khrys) , and co-worker at GSO.
So I was assuming I have just been out of the loop or something and immediately got on my regular news networks. Well, it's on page four or so of my Denver news, what the hell? I then do a Google search and read that the Governor says that she feels that the response was "
anemic
". Did we not just learn our lesson?
It appears that a 30 inch pipeline from 1969 was leaking for a few hours before it was even reported, and then it broke. Close to a million, and I did read a million in
one article
, of gallons of oil have spilled into the Kalamazoo River. Canada Geese and fish have already been seen to be affected, let alone the long term affects on the wildlife. Twenty families are out of their homes due to environmental hazards like benzene.
Good lord people, wake up and smell the sun shine and the wind blowing, I'm just sayin'...